The past months have brought some brilliant musicians and projects into my orbit via the Riot Ensemble and closer to home, working with the soprano Stephanie Lamprea, percussionist Darren Gallacher and violinist Fergus Hetherington.

The Riot Ensemble were invited to Berlin's Maerz Musik, premiering a new work by the trailblazing composer & performer Alex Paxton. Alongside Alex's piece, Bethan Morgan Williams had Gêmdis on the programme – another superb work. We also performed Bára Gísladóttir's otherworldly Animals of Your Pasture.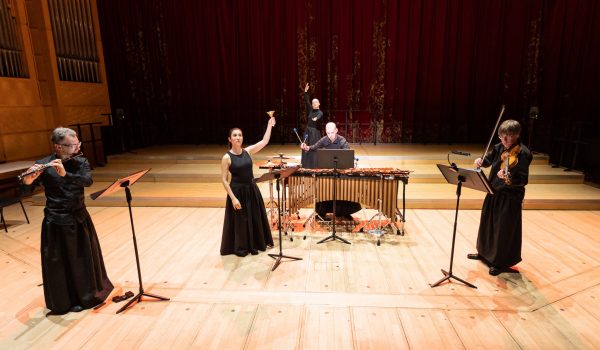 Meanwhile in Glasgow, a concert version of Kate Soper's Ipsa Dixit for soprano, flute, violin and percussion was conceptualised, directed (and conducted!) by Stephanie Lamprea and Anne Kjær. The concert happened on the 17th of April in the Royal Scottish Conservatoire, and you can watch it here.

Concerts in May and June include working with the composer and organist Michael Bonaventure, a duo concert with Stephanie Lamprea premiering a new work by Thomas Metcalf for flute and voice, and making a guest appearance at this year's Hidden Door Festival in Edinburgh.
AND…my recording of Mary Bellamy's solo bass flute piece, Semblance, is now out on NMC records. Other performers on the disc include MusikFabrik, ELISION, Christopher Redgate and Philip Thomas.