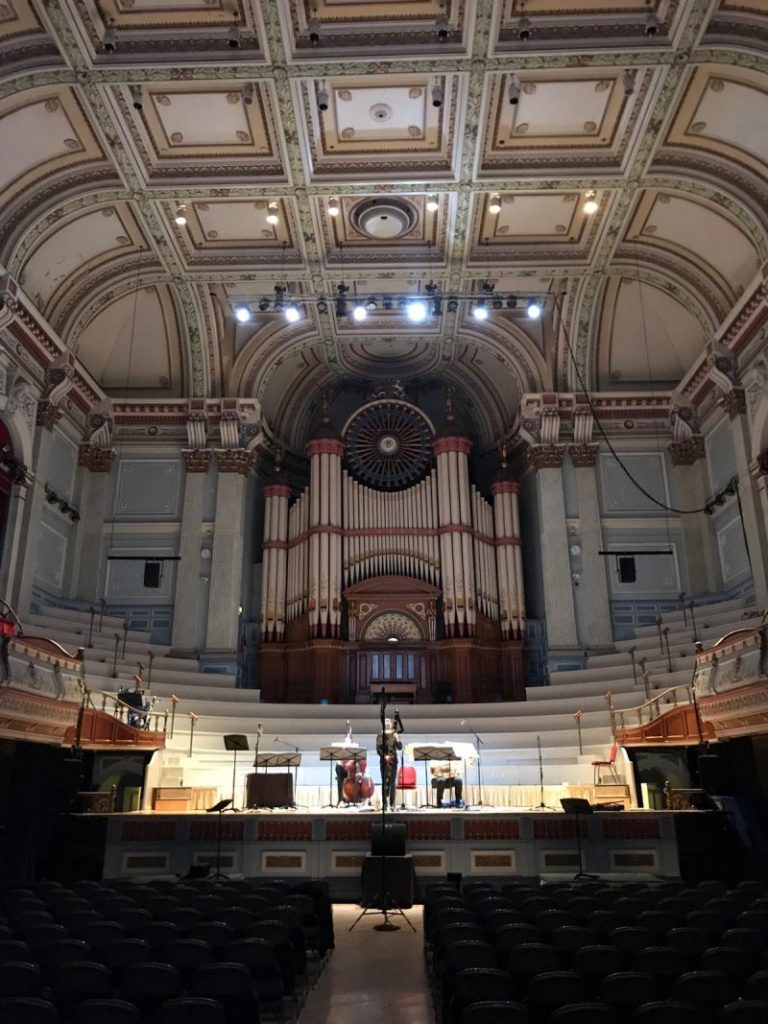 CD REVIEWS
TEMPO
Serienes – John Croft
"The bass flute of Intermedio I dances and dips through melodic pirouettes, dissolving here into breathy wisps and resolving there into pure tone; …Richard Craig's playing is forceful and delicate, elegantly phrasing the sinuous lines."

Alex Huddleston
TEMPO
VALE – Richard Craig
"Every so often one encounters an object whose message brazenly challenges the medium through which it is communicated…And so it is with Richard Craig's recent release, Vale, the virtuoso compilation of recordings, pieces and performances that bring together a myriad of personas…Craig's own microscopic gaze and caring movement through ecstatically amassed detail"
Madison Greenstone
GRAMOPHONE
VALE – Richard Craig
"Forget new complexity: some of the music on flautist Richard Craig's second Métier disc might simply be called post-everything. When there's no tonality, no atonality, no melody and few pitches, what exactly is left? Quite a lot, as it happens …. Such technically complex, 'post-everything' music paradoxically brings us back to a primal, at times ecstatic state of Fauvist force… Craig owns the work here."
Liam Cagney
American Record Guide
VALE – Richard Craig
" The young Richard Craig stands admirably away from this tight little circle; his second disc for Metier is perhaps the most challenging and avant-garde collection that I have heard in some time. Bravo to Craig for continuing to strike out into the unknown."
Tom Moore
The Herald (an extract from an interview)
AMP/AL
"The album is full of taught, angular sounds, but its impact is more about compact intent than aggressive noise: more about poetic succinctness than outright inaccessibility…if it's the beginnings of a new compositional language, we have much to look forward to."
Kate Molleson
NUTIDA MUSIK
INWARD – Richard Craig
"To go directly to the matter in hand: the playing on this disc is sensational, as are the interpretations of the works…"

John Svensson
The Herald
INWARD – Richard Craig
"Richard Craig, Inward (Metier): Mercurial flautist Richard Craig is a leading interpreter of contemporary and avant-garde music, and Inward is the fascinating product of six years' work. It showcases Craig's extraordinary – and exploratory – technique"
Nicola Meighan
The Rambler
His Unity Capsule is a full five minutes (nearly a third) shorter than Paula Rae's premiere recording with ELISION from 1998 (which is too languid for my taste) and still four minutes shorter than Kolbeinn Bjarnason's much tighter performance of 2002. The details fly by at a hell of lick, in fact but, crucially and miraculously, not at the expense of precision. This is a performance that is dense – high resolution – but not hurried. Craig instills the piece – so often caricatured as a Sisyphean struggle against an unyielding notation – with fearsome confidence, swagger even.
Tim-Rutherford Johnson
CONCERT REVIEWS
"The second recital of the night was by the Scottish flautist Richard Craig. He opened with Richard Barrett's Vale (2012), a wonderful piece for amplified flute that in its delicate and sophisticated control of melodic logic put me in mind of Bach's violin partitas. Craig was equal to it, controlling the playful and wending music with subtlety, colour and direction. In its understated way, it was an explosive opening."

James Camien McGuiggan, The Journal of Music

" Richard Barrett's Vale (Latin for 'farewell') could hardly have been more perfect… i can hardly express how enthralling and moving it was, all the more so at its close, Craig expressing a real sense of struggle, fading and/or fizzling out at the end."
Craig brought the concert and this year's festival to an end with Kristian Ireland's luminous for amplified alto flute. Over the course of its half-hour duration, i almost wondered whether my heart was going to come to a stop. Articulated with a Feldman-like single-minded patience…Whatever it all meant – whatever it all was – i very much liked being in its enigmatic, challenging, disquieting, ravishing company. In the same way as a star umpteen light years away, it dazzled."
Simon Cummings, Alba New Music
"Eyam V blurs the lines between the two solo instruments and the orchestra in a similar way, though the general trajectory of the music, from the lowest depths to the highest reaches, ending with a flavour of the start, is at all times clear. And hearing such rare instruments in such expert hands was a pleasure in itself."
Michael Dervan
"James Dillon's febrile Sgothan sent flurries of notes ricocheting around St Giles' walls in flautist Richard Craig's theatrical concert, which ended with one of the "new complexity" movement's cornerstones, Brian Ferneyhough's Unity Capsule, in an account more like a dramatic soliloquy than a musical performance. "
David Kettle, Alba Contemporary Music Festival
"It was as exquisitely lovely as it was fragile, and Craig's performance was just mesmerising…Richard Craig became a spellcaster, the flute his wand, each of Dillon's unutterably gorgeous phrases seemingly spiralling out from the instrument to form elaborate reverberant shapes throughout the cathedral. Arresting, affecting, and so, so gorgeous. "
Alba New Music Festival
The Times
(Malédictions d'une furie) " In a compelling 45 minutes, Lore Lixenberg recreated virtuoso gasps, arching melismas and vocalisations in the company of the haunting whispering and wailing of Richard Craig's bass and contrabass flutes (….) all against the backdrop of grainy film by Craig, resembling water movement, lava flows and flickering flames"
Hilary Finch
TRITONUS
"The concert closed with a superb interpretation of Richard Barrett's Inward – for flute and percussion. A work moving between the extremes of delicate wind chimes and sea shells to the pounding of a hammer on wood."
Mattias Sköld
Sunday Mail
"A lot of people think of the flute as being very light and pretty, and simply not capable of sounding strong, powerful or musically versatile. Such was the skill of Richard Craig at this recital, he showed everyone there just what the flute could do, and produced nuances and sounds that I didn't think were possible."
Jayne Carmichael
Postimees, Estonia
"…the soloist, Richard Craig, gave the impression of somehow being distant, but behind this there was an abundance of nuances uncovering a rich and sensual world…"
Mirje Mändla
The Herald
"The Glasgow flautist, a recent product of the RSAMD, is a virtuoso of the first order, albeit a quiet one...
Conrad Wilson
The Guardian

"Craig, who represents virtuosity at its most beguiling, gave exquisite performances of Kaija Saariaho's Laconisme de l'Aile and Michael Finnissy's beautiful Ulpirra, while James Dillon's Sgothan, pushing the instrument to its technical and expressive limits, was a tour de force."

Tim Ashley