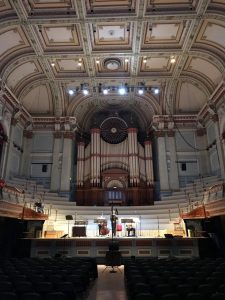 The end of 2019 has been a productive period for me with the brilliant Riot Ensemble, and concerts of my own music too. As a guest musician, I performed with the Riot in the Dutch festival November Music (featuring works by Rebecca Saunders and Laurence Osborn), and also in HCMF, giving the UK premiere of Ann Cleare's work for me: Eyam IV (Pluto's Farthest Moons) scored for solo contrabass flute and ensemble. The concert, alongside other works by Cleare, was a portrait event, set in the epic surroundings of Huddersfield's Town Hall (see above). Alongside the HCMF concert and November Music, I stepped in to play with the Riot ensemble again in Liverpool, and more performances with them will happen in March, July and September 2020, playing Ferneyhough, Grisey and Muttendorf (in Liverpool, London and Tel Aviv).
My own compositions had two performances this Winter: one in the opening of an experimental music series in North Wales called SCRATCH, and the other in York, with the Experimental Performance Platform, AMOK. On both occasions I played Hortulus Animae which is my ongoing composition for flute/s and fixed media (2015 – ).
This year has had an important CD release (John Croft's Seirenes), and another is on the horizon. With the Riot Ensemble, I contributed to the final recordings of Patricia Alessandrini's portrait disc, which will be released sometime in 2020 on the Huddersfield Contemporary Records label.